How to Create a Long-form Article with Wordhero AI
Learn how to create a long-form article with WordHero AI. This is a step-by-step guide that you can use to create your own long-form content.
AI WRITING TIPS AND TRICKS
Wordhero AI can help you create a long-form article with ease. With its easy-to-use platform, you can create an article that is both informative and concise. Wordhero AI also offers a variety of features that will help you improve your writing skills.
Whether you are a beginner or an experienced writer, Wordhero AI can help you create a quality article quickly and easily. Here are some tips to help you get started: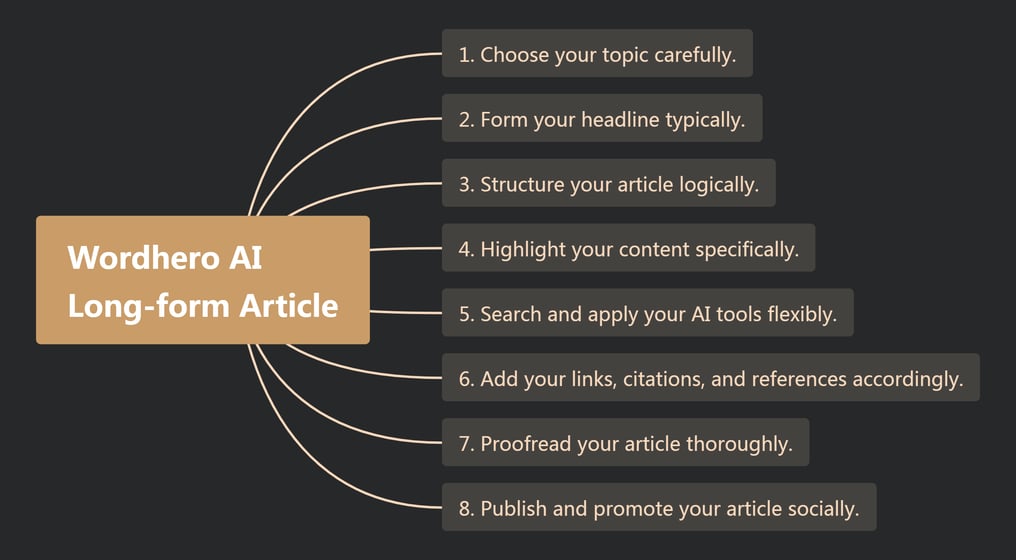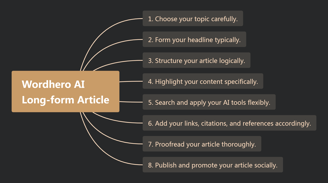 1. Choose your topic carefully.
If your article is too general or if your topic isn't specific enough, Wordhero AI won't be able to generate the necessary content automatically.
Tool for this step: blog topics
Operation tips: You can input up to 120 characters to tell the AI what your blog is about. Then it will come up with 6 topics per AI generation, you can grab one or try again until you get what you want.
According to my daily practice, you are supposed to do keyword research for your topic.
2. Form your headline typically
As artificial intelligence (AI) becomes more sophisticated with GPT-3 technologies, it is able to generate more accurate and informative content. The more typical headline, the more backup information AI will have, therefore the better output result we'll get. Such as you use a "how to" type or "what is" type, you'll find it's more easier for the AI to generate hight quality content. I even did a AI writing template of "how to" type, you can grab and use it for fast AI content generation.
Tool for this step: blog headlines
Operation tips: you can input up to 200 characters to tell the AI to write blog titles. It will generate 6 versions of titles to choose from.
This is the great part of Wordhero AI writer. When you search and choose the blog headlines tool, you will be able to input your targeted topic or keywords. You will then be given a list of blog outlines that have been written about that specific topic. Here is to get information on current events, learn about new products, or find out about the latest trends. It'll save us a lot of time in thinking about what we'll be writing. Especially for something we are not even familiar with.
Blog topics VS blog headlines
The similarities and differences between blog topics and blog headlines in Wordhero AI:
Similarities between blog topics and blog headlines:
Both of them are generated content based on your description of what you want to write.

Both of them limit the input characters, we have to focus on 1 to 3 keywords in our brief description.

Both of them generate several copies for choosing, we don't need to do the brainstorming all by ourselves.
Differences between blog topics and blog headlines:
Input limitation difference: the blog topics tool is up to 120 characters while the blog outlines tool is 200 characters.

Output content types difference: the blog topics usually provide words and or phrases, while a sentence outline consists of complete sentences.
In a word, there is no better one than the other. It depends on what you are using the tool for. An AI topic tool is good for getting an overview of your blog, while the AI headline tool is good for more in-depth research. When we don't know exactly what to write, we use the blog topics tool to get some clues; when we have a clue, we can directly jump to the blog headlines tool for generating a title to start writing. And if you are able to form a title all by yourself, then you can directly jump to the next step.
3. Structure your article logically.
In order to write an article that is both logical and well-informed, it is important to structure your thoughts in a clear and concise manner. Each paragraph should lead logically into the next, with each point building upon the last. Keywords or phrases that are relevant to your topic should be included throughout the article, as they will help readers locate information more easily. When finished, take a step back and read your work critically, looking for ways to improve clarity and flow.
General tool for this step: blog outlines
Operation tips: when you input the headline or say the title, just hit the blog outline icon to generate outlines automatically. The optional method is you search "blog outlines" on the left toolbox and then input what you need to write.
The AI will usually provide you with a list of outlines based on your title.
4. Highlight your content specifically.
Use Wordhero AI's built-in features to help you by highlighting a piece of specific content in the long-form Editor. There are mainly two functions for highlighting your content: formating the content and selecting the content to generate more.
To format content for easier reading, here I list them according to my applied frequency:
Set highlighted parts as H1, H2, H3, or H4. Usually H1 will be your title, no need to do anything. And usually do H2, and sometimes H3 if neccessary.

Bold. It's very important for your audience's reading experience. For example, use the bold tag to make each section of your article stand out.

Italic. It's similar to the bold type. They are emphasizing the semantic importance of the targeted content piece.

Underline. I would use underline to mark where I should add links later. Even you can see in some of my videos, that I paste the link after it. It's very important for us to do long-form article writing. Yes, we can add links within wordhero by using the hperlinks within wordhero, but the websites' editor might not carry the link when we copy and paste the blog.

Strikethrough. This type is rarely seen, it might help for some writing situations.

Color highlighted parts with font color or highlight color.

Listing format for the numbered list or bulleted list.-Text alignment, indent or remove indent.

Adding hyperlinks. As above mentioned, I usually do underline for reminding myself for hyperlinks.
To select content for specific writing, you are able to do it in two different ways:
The rocket icon writing tool of the blog paragraph: the AI will "expand" your highlighted part.

The pen icon writing tool of the write more: the AI will continue to write after your highlighted text.
The highlight can be a specific keyword or a sentence. But as a general rule, we are better to select less than 600 characters. Because the AI now is limited to digesting that much information.
5. Search and apply your AI tools flexibly.
Wordhero AI has a number of pre-built templates that can help you create compelling articles. All you need to do is to choose the right keywords to target your audience.
However, it's important to recognize the limitations of the pre-built templates and to apply any other tools as needed. Such as, I did a review on the WrodHero Content Rewriter tool. In my opinion, it should be part of our writing, especially for some specific topics or definition pieces, instead of rewriting a full blog.
There are plenty of tools to assist our writing. And people asked me a lot about copywriting? Copywriting is an essential part of any content marketing strategy. The problem is that most people don't know how to write good copy. Fortunately, Wordhero AI writer has developed a series of formula tools for copywriting, and they work very well:
PAS copywriting formula
When it comes to creating effective copy, there's no one-size-fits-all solution. However, there is a general copywriting formula that can be used to generate high-quality content: Pain, Agitate, and Solution.
First, you identify the pain points that your target audience is experiencing. Next, you agitate those pain points by highlighting them and providing evidence that they're real and need to be addressed. Finally, you provide a solution that solves the problem.
This formula is especially useful for creating content that appeals to buyers in the research and evaluation stages of the buyer's journey. By addressing the issues that are causing your target audience pain, you can help them see how your product or service can solve their problems. And by providing a clear solution, you make it easy for them to take the next step and buy from you.
HSO copywriting formula
According to WordHero's HSO copywriting formula explanation, this is very useful for me in content marketing position.
When it comes to ads, social media posts, and website copies, you can easily go with the Hook-Story-Offer formula. The hook grabs the viewer's attention and makes them want to learn more. The story tells a story that is relevant to the targeted product or service. And the offer provides a special offer or discount for the viewer to take advantage of.
This formula is especially useful for creating content that appeals to buyers in the ready-to-buy stages of the buyer's journey. The hook and story can make your audience Substitute into the same situation, then they pay for our offer.
AIDA copywriting formula
The AIDA stands for "Attention, Interest, Desire, Action." This formula will help you create compelling copy that will motivate your readers to take action.
When it comes to effective copywriting, the AIDA formula is one of the most important things to know. The AIDA stands for "Attention, Interest, Desire, Action," and it's a framework that can help you create persuasive copy that gets results.
To start with, you need to capture your reader's attention by using strong headlines and opening paragraphs. Once you have their attention, you need to hold their interest by providing valuable information or entertainment. From there, you want to create a desire in your reader to take action by giving them a clear call to action. If you can do all of these things effectively, you'll be well on your way to writing copy that converts.
And there are other tools I used a lot. Such as:
Features, advantages, benefits
As a B2B marketing person, this is very useful to write a blog or article for the factory's products. When I simply input "mini fans on the neck for workers" then I got two copies in WordHero AI:
These mini fans attach to the back of your neck and blow cool air onto your skin, helping to keep you comfortable while you work. They are small and lightweight, so they are easy to wear and won't get in the way. Plus, they run on batteries, so you can use them anywhere. The fan blades are made from soft foam, so they are safe to use and won't scratch your skin.

The mini fan on the neck is designed for office workers to keep cool. It has a flexible metal clip that attaches to the user's shirt collar and a small fan that blows cool air onto their neck. This helps to keep them cool and comfortable, especially during the summer months. The fan is powered by two AAA batteries (not included) and has three speeds to choose from. It is also lightweight and portable, so it can be taken with you wherever you go.
This kind of content is very useful when we are doing the B2B copywriting. And I can not take my side hustle as a freelancer without Wordhero AI's help. It is helping me to challenge the total unfamiliar industry.
Sentence expander
Sometimes I just manually write something and don't know how to continue, I know it is too simple and I will copy it into the sentence expander to write more. Such as I write "I am going to write a blog every day to improve my writing skill" And try to expand it with AI twice, then I get different results:
and to share knowledge with you guys. I would be very happy if you give me some feedback, thank you!

. I am going to learn English at a good English school. I am going to go on holiday with my family in Thailand. It may be too late for me but maybe it will help.
It's similar to the pen icon of "write more" in the WordHero AI Editor. But it will be limited to looking back on what you input. The output will be more specific and related, not just writing more after cursor or highlighted text (min 50 char, max 600 char lookback). And it avoids the AI from looking back too much or too little.
PS: do not use a period "." to the end of your input to continue your sentence or phrase, otherwise it will make the AI start a new sentence. With or without a ".", there will be a huge difference in this tool. Here are cases that with a "." for the same sentence:
I had never thought of writing a blog before but the moment it popped in my mind, I started thinking about what to write.I was wondering why should I write? What will I gain from this.

I am going to read the bible everyday. My goal this year is to be more organized and get rid of clutter. I want to use my time wisely and decrease stress in my
You can see that with ".", the sentence is generating more related content instead of expanding the same content with more details. And there will be more difference in every tools, we'll analyze them one by one. Stay tuned and subscribe to us for prompt updating!
6. Add your links, citations, and references accordingly.
Since we started using the Wordhero AI, we have seen a significant increase in our writing productivity. The program helps us to come up with strong and interesting ideas for our articles, and it also provides feedback on the structure and grammar of our work. While we love all the features of this tool, there is one thing we would invest in – adding links, citations, and references to our content.
Currently, it is difficult for AI writers to find specific backup or linking information within our documents. We hope that the developers will consider expanding this feature in future updates. In spite of this minor inconvenience, however, we are still very satisfied with Wordhero AI and would recommend it to anyone who wants to improve their writing skills.
7. Proofread your article thoroughly.
Check for spelling, grammar, and tone issues before publication.
Proofreading your blog content is important, regardless of whether you're using AI writing technology or using a manual editor. However, when using an AI editor like Wordhero, it's especially important to check for errors. It would be too creative to generate content.
The AI engine is designed to correct mistakes based on context and grammar rules, but it's not perfect. By proofreading your piece yourself, you can catch any errors that the AI missed.
8. Publish and promote your article socially.
Publish your AI-generated content to your social network first. In this way, you can invite your friends to provide feedback and seek corrections.
There are several benefits of social promotion. When you share articles, pictures, and other content on social media, you're not just promoting your interests—you're also helping others. Each time you share an article or post, you're adding to the collective knowledge of your followers, and you may even introduce them to new ideas or information.
Additionally, when you share links to other people's content, you're showing that you respect and appreciate their work. So next time you post something online, remember that you're not just promoting yourself—you're also helping others.
When people from social networks are reading your articles, people will stay on your site and click on other related topics. This will send Google a message that your content is great and your site is good. And the more you do it, the better ranking you can get. When people from social networks are reading your articles, they will stay on your site longer and click on more links. This is because they trust the information that you are providing. As a result, you will see an increase in traffic and conversions.
As a business, it's important to ensure that you're doing everything you can to put your best foot forward online. One way to do this is by making sure that your site is appearing as high as possible on Google search engine results pages (SERPs). Some simple things you can do to help improve your ranking. Include creating great content and building high-quality links back to your site.
A recent study by Moz found that, on average, the first result on a SERP receives about 33% of all clicks. This means that if you want your business to be successful online, you need to make sure your website is ranking as high as possible. With Wordhero AI, it will be easier to achieve such a goal.
The last thoughts
By using Wordhero AI, you can easily create a long-form article that is both informative and engaging. With its help, you can easily add images, videos, and other multimedia elements to your work, making it more appealing to your readers.
So don't hesitate to try it out and see for yourself how Wordhero can make your writing process easier and more productive.
Not a WordHero Member yet?
WordHero AI writing tool 89$ LTD deals in APPSUMO: click here to grab the deal.
LTD is for early-bird users' lifetime access to the SaaS service, only valid and last in the developing stage. The later users without LTD have to pay much higher costs monthly or yearly.
Noted: WordHero charges an extra 89$ cost for a long-form Editor add-on. In total 89$+89$=178$ you will have unlimited AI content generation.