Labrika Review: An
Affordable

Website SEO Tool
Labrika is an all-in-one SEO toolbox designed to help you grow your organic traffic. With detailed instructions and a user-friendly interface, Labrika makes it easy for you to get started with SEO.
What

is Labrika and what it is used for?
Labrika is a site audit and keyword tracking tool that also provides competition analysis and content optimization features. It crawls websites to gather data and then creates reports. We'll see:
how well a website is optimized for certain keywords,

how it compares to competitors, and

what changes could be made to improve search engine rankings.
Features

:
What

Labrika can do for you?

Labrika is a tool that can help you grow traffic and increase conversion. It has many features, but some of the most important ones are the ability to track clicks, create custom reports, and identify trends.

Additionally, it can help you improve your website's search engine ranking and optimize your pages for better performance.

Labrika is a company that provides AI-led SEO tools. Their tools are designed to help you rank higher and generate more organic traffic. Labrika's AI-led SEO toolset includes the following:
1. Website Auditor
Labrika Website Auditor is a desktop software that provides four options for auditing:
detailed website analysis,

only search rankings,

only technical audits, and

user-behavior reports.
It helps digital marketing professionals, webmasters, and SEO experts to improve their website visibility and optimize their online presence.
All the data we need is collected from here. And we can manage as many websites as we want in a separate way. I am using Labrika one code LTD not stacking codes from APPSUMO. I think it helps me manage 3 websites without any trouble. The only limitation is the keyword ranking quantity under 500 queries.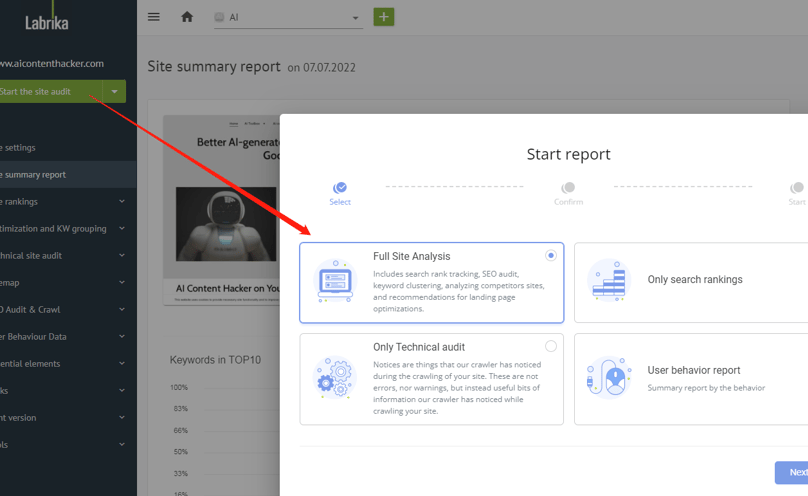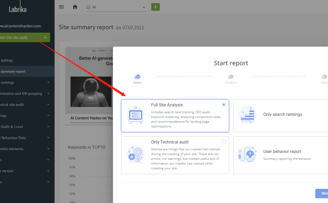 2. Rank Tracker
This tool helps you track your website's rankings in Google and other search engines, so you can see how your SEO efforts are affecting your results.
I am only purchasing one code, so there'll be 500 keyword ranking queries available for me. There's a trick here, if you want to track a keyword, that means each query should be specified with a link, a location, and a device.
Let's take "AI writer" as an example, I need to set which page, if I want to track LA and CA for desktop, there will be 2 queries; so does desktop and mobile difference.
If you want to track more keywords in different locations and devices, you'll need to pay for a bigger plan.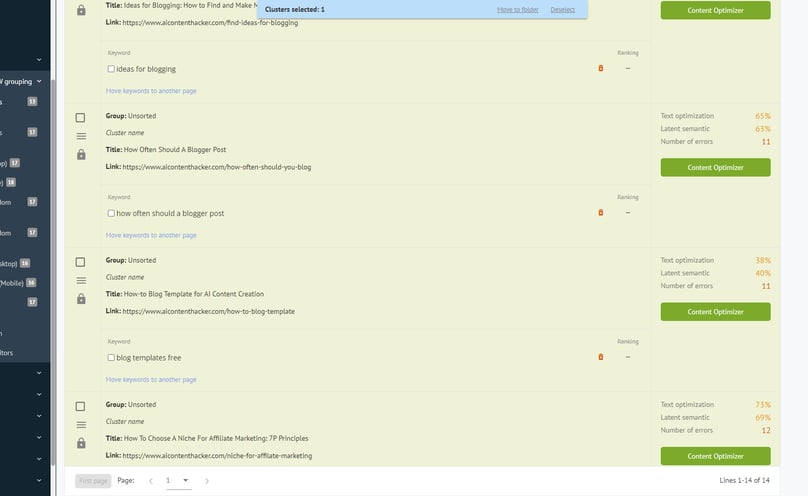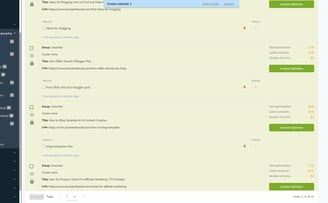 3. Website competitor analysis
This tool helps you find the competitors for your website, so you can target the right opponents. We can find our ideal audiences and get more traffic by reverse-analyzing our competitors.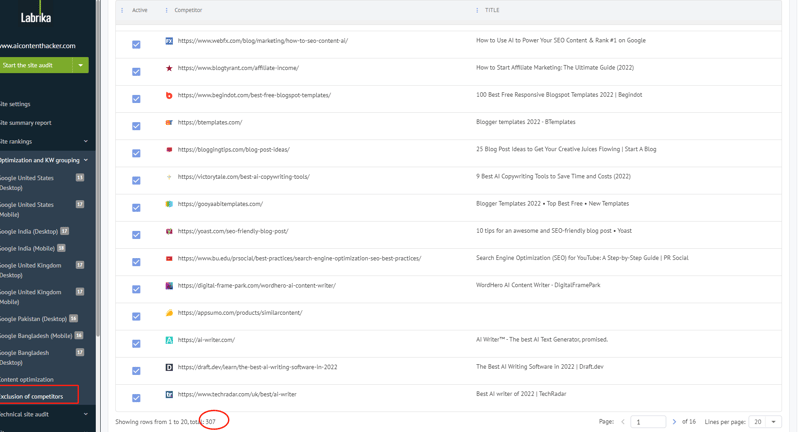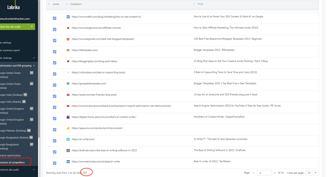 4. Content optimization tool
This tool is analyzing the top 10 SERPs for 1-3 keywords. And it provides Latent semantic keywords. There will be other factors to be improved. Such as title keywords, meta descriptions, target keywords, etc.
I agreed this part is quite the same as Similar Content Pro. However, I manage to make them work together. These two tools are offering different but necessary information for optimizing a web page.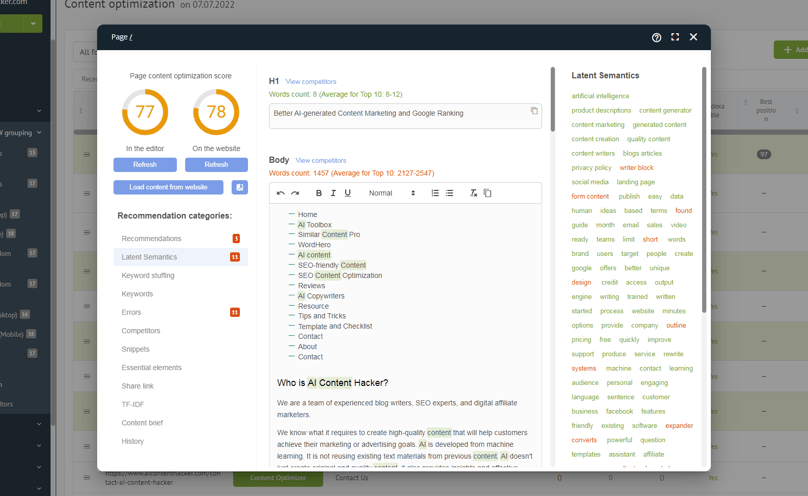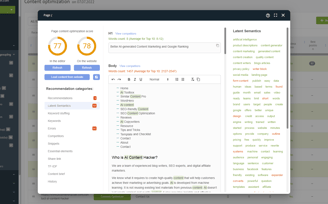 5. User behavior data
The Analytics API provides access to Google Analytics configuration and reports data. This allows Labrika to integrate the power of Analytics into their visualized data analysis. It is providing us with a better understanding of our visitors' behavior. We can get more information on user activity, conversion funnels, and more.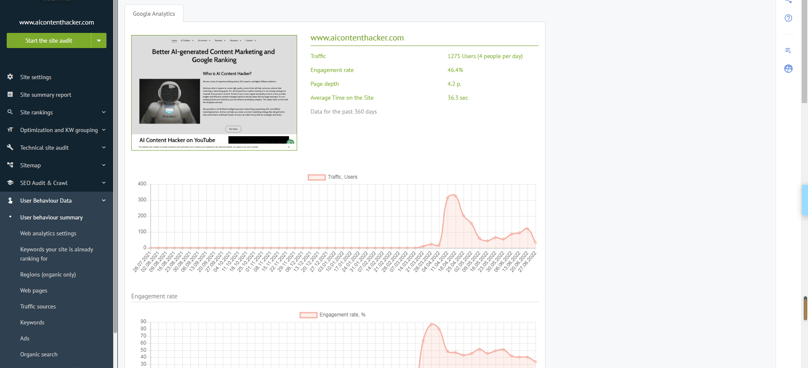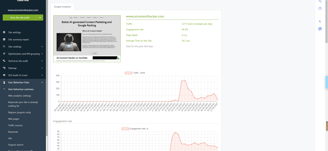 6. Link monitor
Labrika is a great tool for managing links. It can help you keep track of inbound and outbound links, as well as internal and external links. This makes it easy to keep your website's link structure neat and tidy. Labrika also has a handy monitor function that alerts you when any of your links has no anchor text or too few inbound links.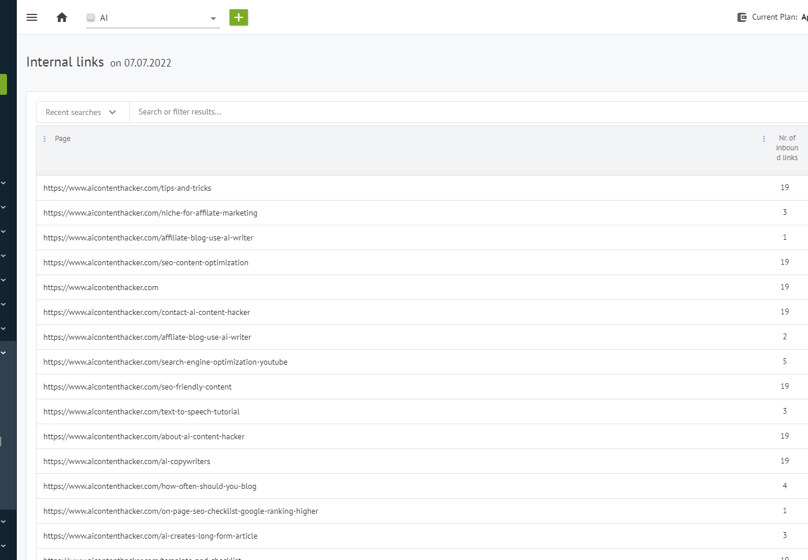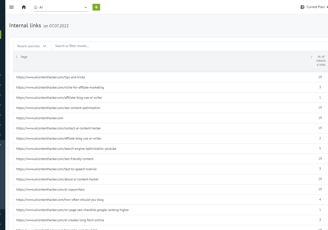 7. Other functions
Labrika has many other functions to be found and used effectively. Such as a site summary report, print version, and sitemap. It can also track rank position change and other information.
Ease of Use: Labrika's easy-to-use design
Labrika is a great tool for inputting websites and getting data from Google Analytics and competitor data collection. It is very easy to use and helps you get the most relevant data quickly.
As you can see above features introduction, each spot is organized in a natural thinking way but with AI technology inside.
Data-driven analysis: How Labrika helps us to improve our website
Labrika is an AI-driven website analysis tool that helps us improve our website's SEO performance. It analyzes our website and provides feedback on how we can improve our SEO ranking. It's including recommendations on keyword optimization, website structure, and content. Labrika also monitors our website's SEO progress over time, so we can track the effectiveness of our changes.
Overall, Labrika has been a great help in improving our website's SEO ranking and visibility.
Here's the video that I test about the Labrika latent semantics:
Labrika pricing: APPSUMO LTD vs monthly subscription
Labrika can be purchased in APPSUMO LTD for 69$. This won't last forever, if you'd love to invest in SEO tools, this is a deal that won't let you down.
If we miss the deal, we'll have to stick to their official monthly subscription: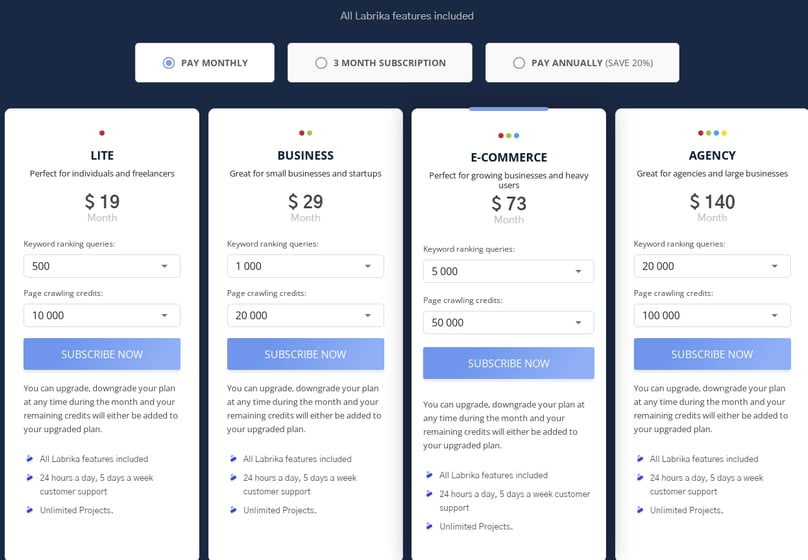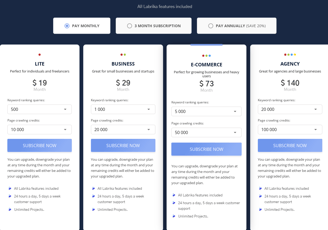 What other tools are helpful for my SEO practice?
One popular tool for doing content creation is WordHero AI. This tool uses artificial intelligence to help you generate text based on keywords related to your topic.
Another great tool for keyword research is Ubersuggest. This tool allows you to enter a keyword and then provides a list of related keywords, as well as information on how competitive those keywords are. It also offers other helpful data, such as monthly search volume and CPC.
Finally, Similar Content Pro can be a great tool for finding content ideas. It allows you to enter a keyword or URL and then provides a list of similar websites and content ideas. This can be helpful for finding new content ideas or identifying potential competitors' content strategies.
All these tools are in my favorite SEO toolbox. And I am learning and sharing with real practice and actual data. So if you'd love to grow big and earn passive income with me: