Content Silos

Building Tutorial for Website-building and Blogging Beginners
As a beginner in website building and online marketing, I am always in trouble with content management. People like me are not familiar with website content management systems (CMS). A CMS is nice but usually pricey. In this article, we'll discuss how to build content silos to handle content management without using a CMS. At least, at the early stage, we settle it down quickly and costlessly.
What

is website content management?
Website content management is the process of creating, editing, organizing, and publishing website content. Content can include text, images, videos, and other multimedia elements. A CMS like Hubspot allows you to manage all of your website's content from a single interface. This makes it easy to create and update pages, add new content, and revise existing content.
Today, let's assume we are a beginner in website building. We don't pay a single penny but we somehow manage our content in an efficient but effective way.
I have made a video to explain how I am executing my website content writing, keyword mapping, and internal linking:
Why

do beginners need to manage website content?
When you're starting a website, it's important to have a plan for your content. Even if you don't have any prior experience, there are a few things you need to keep in mind to make sure your website is seen by Google and ranked accordingly.
One of the most important things for beginner website owners is creating a logical structure for their content. This means thinking about what each page on your site is about, and how it fits into the overall scheme of things. You also need to make sure that each page has enough relevant content - Google doesn't like thin or duplicate pages.
Another thing to consider when creating your website is SEO (Search Engine Optimization). This means adding the right keywords to your content so that it is seen by those searching for information.
Finally, you have to make sure that the content is well-organized, and easy for your audience to follow. If it's not, they may lose interest, and you'll lose potential customers. What is more, it's easier for us to keep on content creation and optimization. This helps our website rank higher on Google and brings in more traffic.
In the simplest terms, a content silo is a collection of related content on a website. In most cases, this content is organized in a way that makes it easy for users to find and navigate. Silos can be used to organize all types of the website content, from blog posts to product pages.
There are several benefits of using content silos on your website. First, they make it easier for users to find the information they're looking for. Second, silos can help you rank better in search engines. And finally, silos can improve the user experience on your website.
Here's what Matt Digitty says about keyword ranking without link-building by using content silos:
According to Matt, there are 5 configurations of content silos. The 1st one is a top-down recycle silo (dummy, not recommended):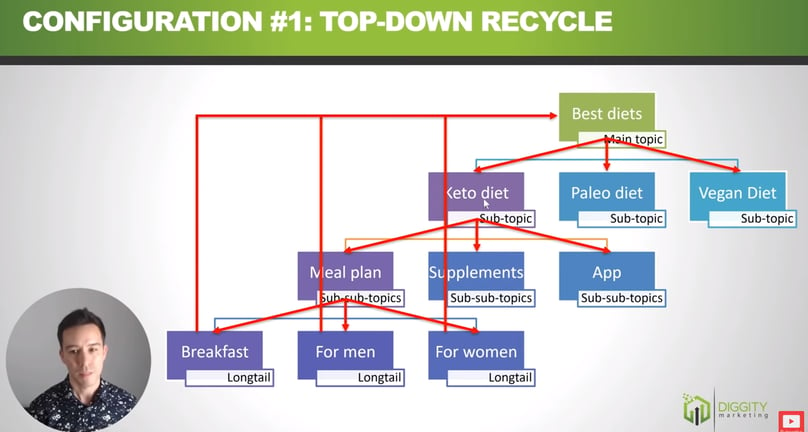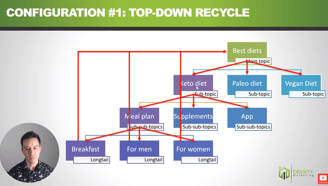 The 2nd one is reverse content silo(beginners recommended, my current major method):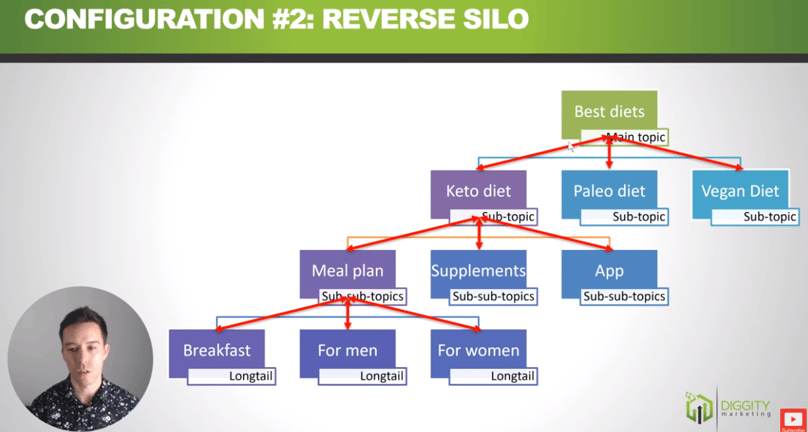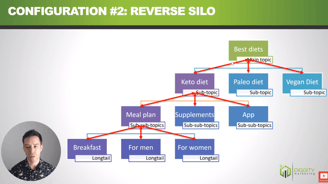 The 3rd one is the serial silo(not flexible, not recommended):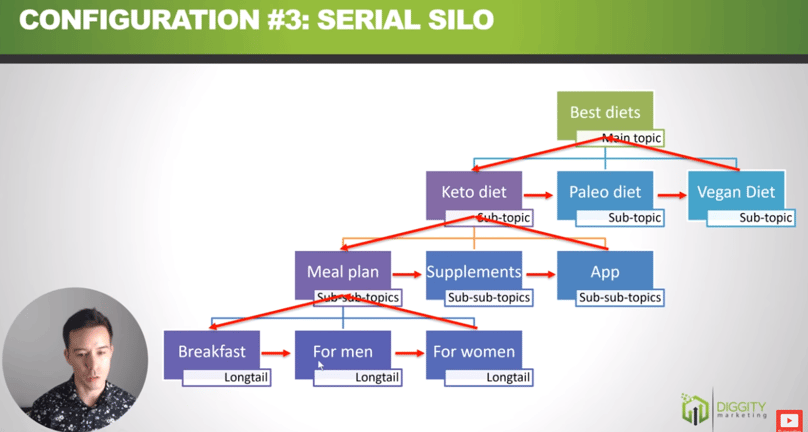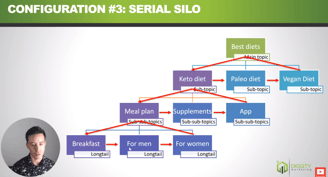 The 4st one is the so-called YOLO silo that links every pages together(not recommended):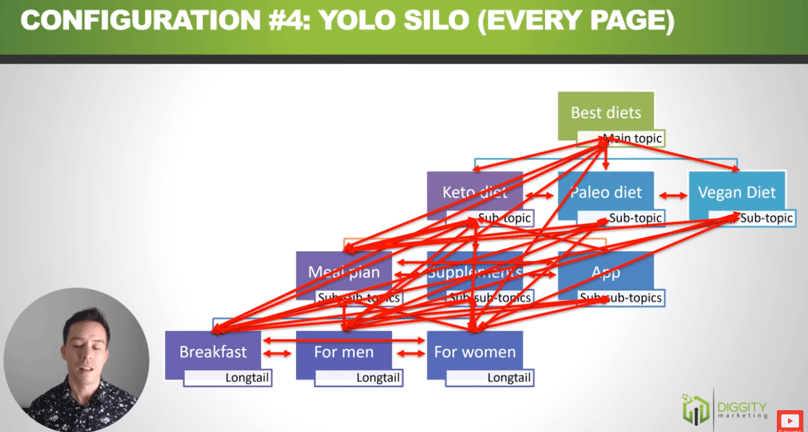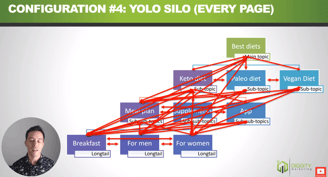 The 5st one is the priority silo(an advanced but need more management, recommended for skillful marketers):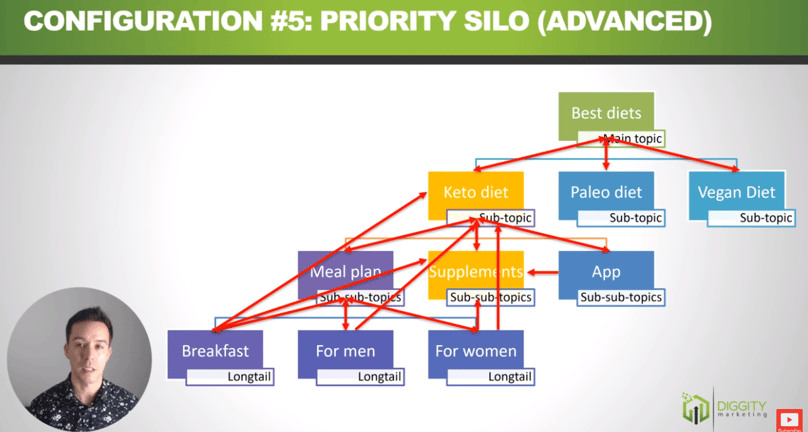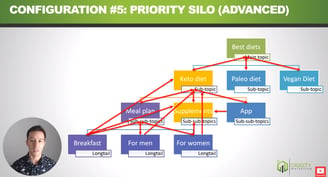 For the record, I mainly follow the #2 reverse silo for building up my content and internal link. And partly, I apply the priority silos for some promoting pages.
There are two mistakes I made according to Matt's video. The 1st one is over-sending exact match anchors, and the 2nd one is not building an internal link loop: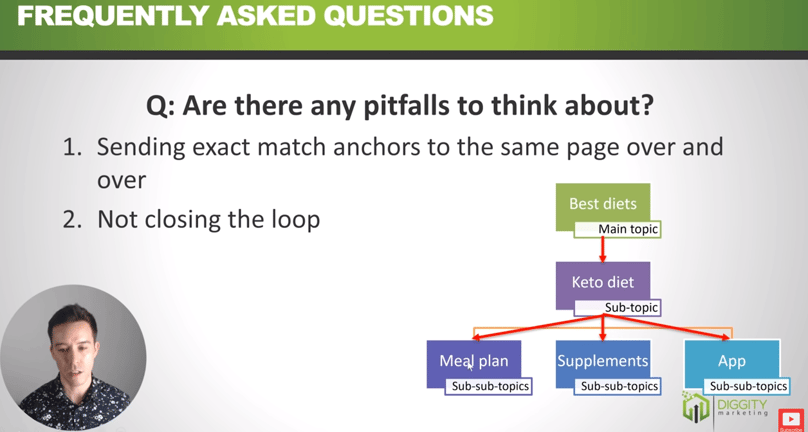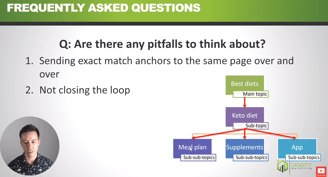 For those two mistakes, I would follow what Matt's suggested, use varied target anchors 80% and misc 20%. Also, I try to make all my links loop up for topic relevance: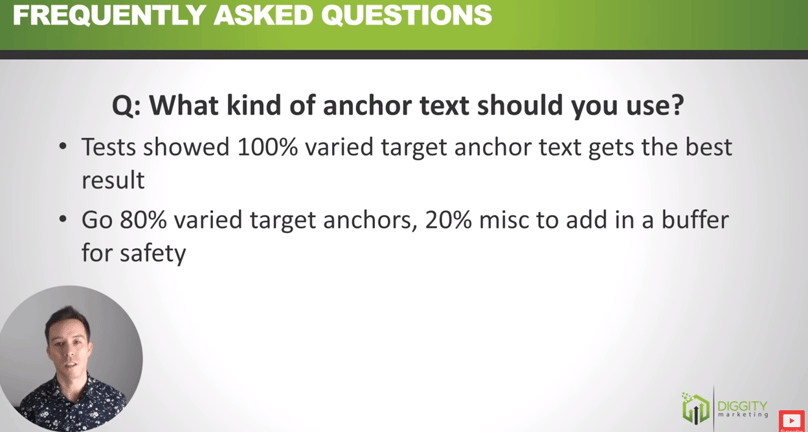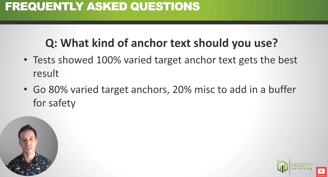 For on-page SEO, content silos building is one of the very important fundamental factors. According to Kyle Roof's idea, the reverse content silo is their SEO hidden hero. And as his so-called supporting articles, here I am specifying into "what is" type, "how to" type of blogs. There should be other types of content formats, such as product comparisons, listings, etc. But to boost a new website, I am going to test the minimum scale of hierarchical content structure and internal link loop.
Why

should beginners focus on content silos for website content management?
When you're starting a website, it can be tempting to try to do everything at once. You want a big plan with long lists of to-do things. But this is often where newbies go wrong. Trying to do too much can lead to chaos and disorganization. This is why beginners should focus on content silos for website content management.
Silos are a way of organizing your website content in a way that makes sense. You create different silos for each type of content on your site. This might include pages, blog posts, products, or any other type of content you have. By creating silos, you make it easy to find and manage your content.
One of the benefits of using silos is that it helps you focus on one task at a time.
And also, there is a lot of difficulty with backlink building for beginners. So why not focus on creating different pages on a specific topic? And we have seen people can grow a site from zero to 300k of organic traffic in less than half a year, actually 5 months, just depending on Topical Authority and Semantic SEO:
How

to manage a website with content silos?
It won't be easy to create both SEO-friendly and user-friendly website content. The first thing we should do is to organize our website's content in a way that makes it easy for both the search engines to crawl and visitors to search. One way to do this is by using content silos.
A content silo is a collection of pages on a website that are all related to each other. The pages within a content silo are linked together, and the anchor text (text you click on to go to another page) contains keywords that are related to the topic of the silo.
By using content silos, you can make it easier for the search engines to find your website's content, and you can help your visitors find the information they are looking for quickly and easily.
To achieve this, let's see how can we get it done step by step:
#1: Identify the
main topics

of your website
When creating or updating a website, it's important to identify the main topics you'll cover. This helps you focus your content and also determine which keywords to target for broader search traffic and which to focus on for niche positioning. It's also a key part of market segmentation, helping you understand who your potential customers are and what they're looking for.
Start by brainstorming the main topics your site will cover. These might be broad topics like "cars" or "travel," more specific ones like "Ford Mustang convertible" or "Paris vacation packages," or even narrower ones like "Mustang convertible reviews" or "budget Paris hotels." Once you have a list of topics, drill down into each one and identify the keywords people are likely to use when searching for information on that topic.
#2: Create a hierarchical structure for your website content
When it comes to website content, a hierarchical structure is key. By organizing your pages and posts into a tree-like format, you make it easy for users to find what they're looking for. You also improve internal link building and help search engines understand your site's topic and structure.
The best way to create a hierarchical structure is by using latent semantics keyword trees. These trees help you group related keywords together and create a logical hierarchy. Once you have your tree in place, you can then create internal links between pages and posts to further strengthen your site's structure.
Your homepage should act as the root of your keyword tree, with the main sections of your site branching out from there. For example, if you're running a blog, your homepage might list the latest blog posts, with each post linking to the individual page where that article is published.
Then your navigation pages should be focusing on the sub-topic, and act as the branches of the tree, with the posts on that page linking to the main post.
And once every page is done, we take a look at the internal link structure. You will find out that each section within your site is able to link back to the homepage, and from there to other sections of your site via internal pages.
#3: Add your
website content

to the correct location
When it comes to adding your website content, it's important to understand where it should go within the overall sales funnel and promotion strategy. Too often, business owners focus on generating traffic without first ensuring that their site is set up to convert visitors into buyers. According to the AIDA principle, prospects go through a specific buying journey that starts with awareness and ends with a purchase.
Your website content should be strategically placed along this journey in order to maximize its effectiveness.
Search engine optimization (SEO) can only take you so far: bring people to your site. And the more compelling is your content, the longer they are going to stay on your site. But you still need to design the content to convert them. We need to offer our product or service during their "journey".
AIDA principle is only a theory that reminds us, that there is a funnel for all of our visitors. The buyers are going to be "filtered" from them. Yes, we need to accept the fact that only part of the visitors will be our buyers. But the funnel is totally designed by us!
#4: Publish and update your website content regularly
If you want your website to rank high in search engine results pages (SERPs), you need to publish and update your website content regularly. But, how can you do that without spending all your time writing new content?
Thankfully, there are AI writing templates that can help you create repeatable workflows for publishing new content on a regular basis. These templates are proven methods that will help you get the most out of your website's SEO.
In addition to using AI writing templates, be sure to also use other SEO best practices, such as including keywords in your titles and descriptions, and optimizing your images. By following these tips, you can ensure that your website is regularly publishing fresh, engaging content that will keep visitors coming back for more.
What

are the best content managing strategies for beginners?
I am also new to content management, I asked myself many times:
Where do you start?

What are the best practices?

What will be the workflow you should follow?
Then I create a content managing mindmap to guide myself. It's not 100% correct or proven, but I would take it as a trial roadmap: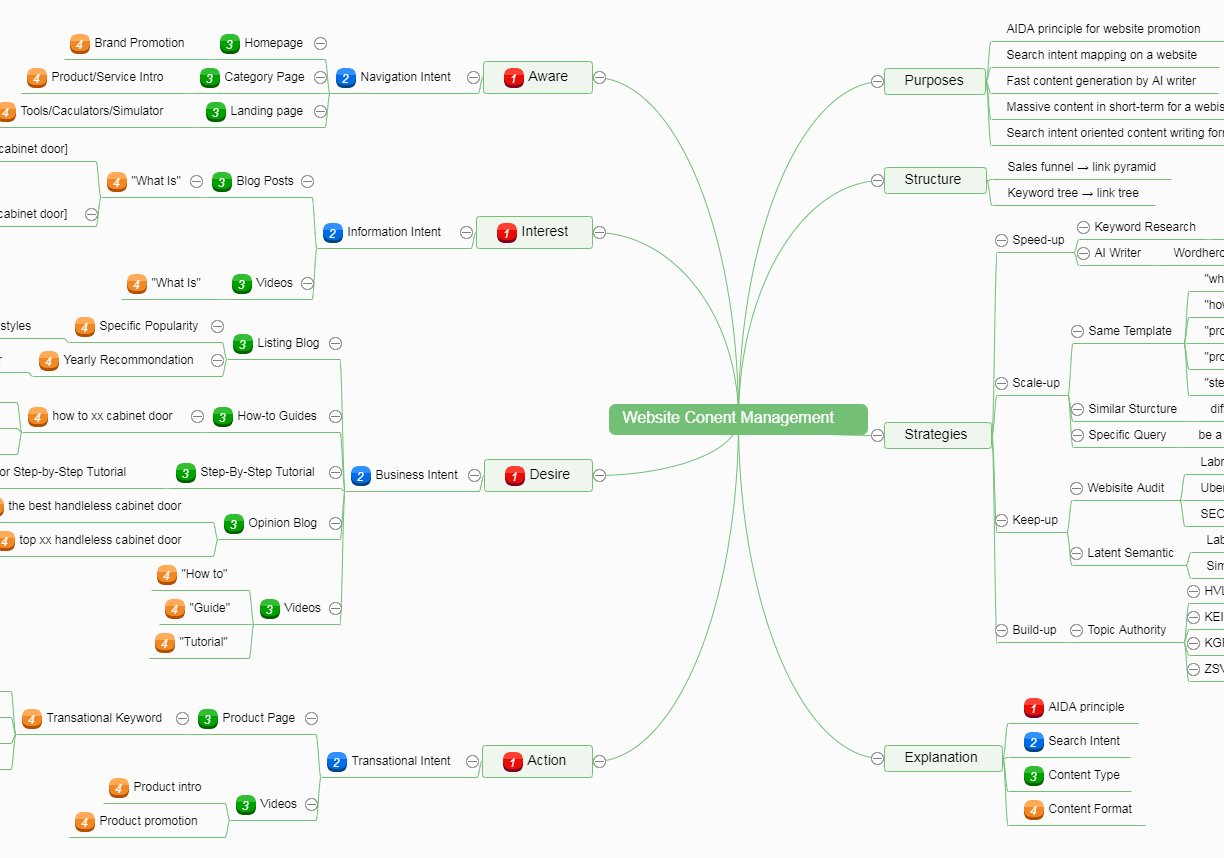 Here are a few content management strategies for beginners that will help you get started on the right foot:
1. Speed up content creation with keyword tree mapping that adapts to AI writing.
This is a process of organizing your keywords into a hierarchy, starting with broad topics and then drilling down to more specific keywords. It's the key point of the above #1 and #2 processes. This helps me know what kind of content to create and where to place it on your website.
2. Scale up the website content with AI writing.
Creating content with an AI writer and some templates. These templates are forming a sales funnel based on the AIDA principle. This AIDA principle states that people go through four stages when making a purchase: Awareness, Interest, Desire, and Action. Your content should match each stage of the funnel accordingly. And so does your internal link-building.
The AI writing templates are including but are not limited to:
"what is" template

"how to" template

"product review" template

"product comparison" template

"step-by-step tutorial" template
Specifically, Let's see how it's done:
Homepage: I will treat the homepage as the Awareness page. this is the initial part, and I should pick a topic keyword for positioning my website. Such as "solar power". So the homepage will be similar to the "what is the solar power" type of content.
Navigation pages: I would drill down some sub-topic words based on the homepage's topic keyword for the pages of the navigation menu. Such as "solar power panel", "solar power bank", "solar power system" etc listed under the "product" navigation page.
PS: All these sub-topics will be mentioned on the homepage. And there will be internal links between the homepage and navigation page.
Supporting pages and blogs: same methods for drilling down sub-topic keywords for more long tail keywords. Destroy each content one by one and link them together in a looping system. You might go over Matt's video again to make better sense of what I am saying here.
It's easy to create content with an AI writer such as Wordhero Writing AI and some templates. These templates are forming a sales funnel based on the AIDA principle. This AIDA principle states that people go through four stages when making a purchase: Awareness, Interest, Desire, and Action. Your content should match each stage of the funnel accordingly. And so does your internal link-building.
Then I use the AI writing template to generate different sub-topic keywords,
But most important is always to keep search intent in mind.
Most people don't realize it, but when they search for something online, they have a specific intent in mind. This intent can be anything from wanting to find information(e.g. "what is" blogs, informational intent, interest stage of the sales funnel), to wanting to buy a product(e.g. product pages, transactional intent, action stage of the sales funnel). And we need to match our content to our visitors' intent. This is the right way to scale up our content.
I used to make mistakes for searcher intent. So every time I aim for a keyword, I would input the keyword on Google to check out the SERP. It's the easiest way to identify what people are looking for.
Such as I want to write a "what is" blog that focuses on the keyword "computerized heavy duty sewing machine". And actually, it's a mixed search intent keyword. The #1 position is a listing blog. Let's say it's the Desire part of AIDA and commercial intent. Hence Google knows people searching this keyword that are mostly ready to buy but not quite sure which model to be chosen. And the rest of SERP's top 10 is about the product page. Yes, it's most likely the transactional intent keyword! But the "what is" blog is about informational intent! So I am better off not writing a blog about "what is a computerized heavy-duty sewing machine"! It is not going to compete with top results with a blog post instead of a product page.
3. Keep up the keyword ranking and tracking with AI Tools.
As the world of digital marketing progresses, so do the tools used to excel in it. Staying on top of your website's ranking is essential to success and there are now AI tools available to make the task easier than ever.
Labrika AI is a great choice for those looking for an all-in-one solution. It offers keyword tracking, website audits, and even latent semantic indexing.
Ubersuggest is another excellent tool that can help you with keyword research and tracking. It provides detailed data and insights that can help you fine-tune your SEO strategy.
SEO PowerSuite is a comprehensive suite of tools that covers all aspects of SEO, from keyword research to link building to site audits. It's a great choice for those who want a complete picture of their website's SEO health.
4. Build up the topic authority with content silos and interlink building.
If you want to increase your topic authority, one of the best ways to do it is through content silos and interlink building. By creating a network of related content, you can show Google and other search engines that you're an expert on a particular topic. Not only will this help you rank higher in search results, but it will also give you more opportunities to drive traffic to your website. Here's how to get started:
Content silos refer to a group of pages on a website that is all focused on a similar topic. For example, if you have a blog about fashion, you might create a content silo for each category, such as "dresses," "shoes," and "accessories." This helps Google understand the relationship between all of your content and provides context for each individual page.
Let's hear what Matt says about the "Topical Authority Launch" to avoid the Google Sandbox:
Therefore, the 4 strategies are what I am going to apply in my blogging and website building. We'll update more on how we are using them to guide our work.
In conclusion, website content management for beginners is not as difficult as it may seem. By understanding the basics of content silos and interlink building, you can create a well-organized website that is easy to navigate and provides a great user experience. So get started today and see the benefits for yourself!