Content Marketing SEO Writing Tool Review: WordHero AI Content Rewriter V2
WordHero AI content rewriter is a content marketing writing tool that uses artificial intelligence to rewrite your article for SEO purposes.
AI WRITER TOOLBOX
WordHero is a content writing tool that uses artificial intelligence to generate high-quality, publishable content. There are plenty of AI tools for specific purposes. With WordHero AI's Content Rewriter V2, you can easily rewrite new articles or blog posts with little to no effort.
Simply copy the content you want to rewrite, click "write for me", and WordHero will take care of the rest. With WordHero's rewriting tool, you can be sure your content will be quality and publishable. And most important, it is 100% plagiarism-free.
Today Let's do a review about it.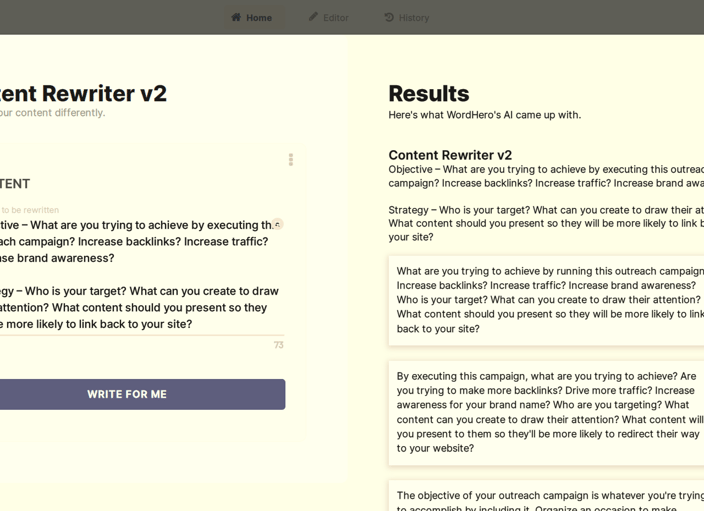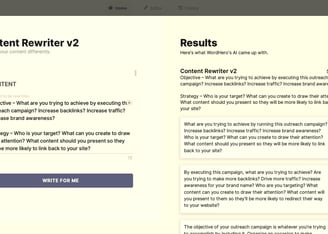 How to make sure the content is 100% plagiarism-free?
I did a test to prove that Wordhero AI's Content Rewriter V2 is 100% plagiarism-free:
Finding out which part is not rewritten in a proper way;

Removing this part, all results are 100% unique.

For other articles I do random checks, all is good.
Free online plagiarism checker in this review video:
Slow but with specific plagiarism part points out: https://plagiarismdetector.net/
Quick but without marking plagiarism content:
Review video of the Content Rewriter V2:
This video is from my daily work, for confidential reasons, I just pick the last piece to show you how it should be done.
And remember, it is not spin text, the AI will be too creative and mess up the content meaning.
What is Content Rewriter V2?
Ever since the launch of Content Rewriter V1, we've been getting a lot of feedback from our users. They've told us what they loved about the tool, and what they think could be improved. Based on that feedback, the team has been working hard on Content Rewriter V2, which is now available to everyone.
Content Rewriter V2 is a completely rewritten version of the tool, with a new interface and lots of new features. It includes a built-in plagiarism checker, so you can be sure that your content is original, and it also has a built-in grammar checker, so you can make sure your content is error-free. Plus, it now includes a spinning algorithm that creates unique versions of your content for each user, so you can get better results from your SEO efforts.
And most important, it is not using the GPT-3 engine. This makes it a great choice for those who want to rewrite content without the restrictions of the GPT-3 engine.
What is confusing us when using Content Rewriter V2?
There are 3 things that bother us the most:
Is the content 100% plagiarism-free?

Do we need to edit the text after AI-generating the new versions?

Is the rewritten content get indexed and ranked by Google?

So my answers are:

Yes, it is 100% plagiarism-free. sometimes I did random checks there will be one sentence or two mentioned by someone somewhere else. But it does not hurt.

Yes, we need to edit some spots, especially with statistical data. it will alter the content. Such as the article rewritten in the video, the AI automatically fills the wrong year or changes million into billion.

I did several articles, including news or industrial information blogs in different niches, they all got indexed and ranked.
The Pros of Content Rewriter V2?
Content Rewriter V2 is a tool that can help you rewrite your content. The Pro parts are:
It is an AI writer that can help you rewrite your content to make it more concise and clear.

The tool can also help you improve your SEO ranking by rewriting your content to be more keyword rich.

It provides 3 different versions to choose from per click.

You can try several times to get a satisfactory copy.

It will generate a new pattern to inspire you to write differently sometimes.
The Cons of Content Rewriter V2?
However, there are some cons to using this tool.
First, the rewritten content can sometimes be awkward and difficult to read.

Second, the rewriting process can take a long time if you have a lot of content to rewrite. It's limited to 380 characters per input. That is just 3 or 4 sentences per content rewriting.

Finally, the rewritten content may not be as high quality as the original content.
What is the difference between AI rewriting and article spinning?
Spinning content is somehow rewriting it. So it won't be flagged or identified by Google as duplicate content. Content spinning can be done manually or with an online app such as Spinbot, Chimp Rewriter, and Spin Rewriter. Spinning text is often done to achieve content uniqueness. And the AI rewriting is using some pre-trained patterns to rephrase the sentence. It is also aiming for unique content.
There is a lot of confusion between AI rewriting and article spinning, but there is a big difference: Rewriting is when a computer program reads through an article and creates a new one that is similar, but not identical. Spinning is when a computer takes one article and creates multiple versions of it, each with different words but the same meaning.
Let's make it simple:
When using spinning work, people are expecting different versions of the same content to get Google's indexing and ranking. You won't do it when you are writing high-quality content for any potential risk. Who knows Google will not update their algorithm and hit you badly?
And for me, using Content Rewriter V2 is for filling some spots in my article. It is to improve my content credit and readability.
How do I use the AI Content Rewriter V2?
I copied the news from the China Sewing Machine Association's official website.
I did more infographic work and tried to explain it in more detail. In this way
The Content Rewriter tool has 380 characters input limitation.
Usually, I will copy just 2 or 3 sentences to rewrite. Then I leave the original content to compare with rewriting versions.
To do the review, I did not delete a paragraph that I copied. See whether the plagiarism detector can find out where I am copying.
So I am showing my last paragraph for the news. It's generating 3 different versions of rewriting content. And I just pick one randomly. Then I realized there are some mistakes regarding the original content. Such as the AI is making a mess of the month-on-month and year-on-year comparison.
I usually would not pick this version. It's to show you the difference between AI rewrite text and spin text. So let's just copy the most satisfying version and move on to plagiarism checking.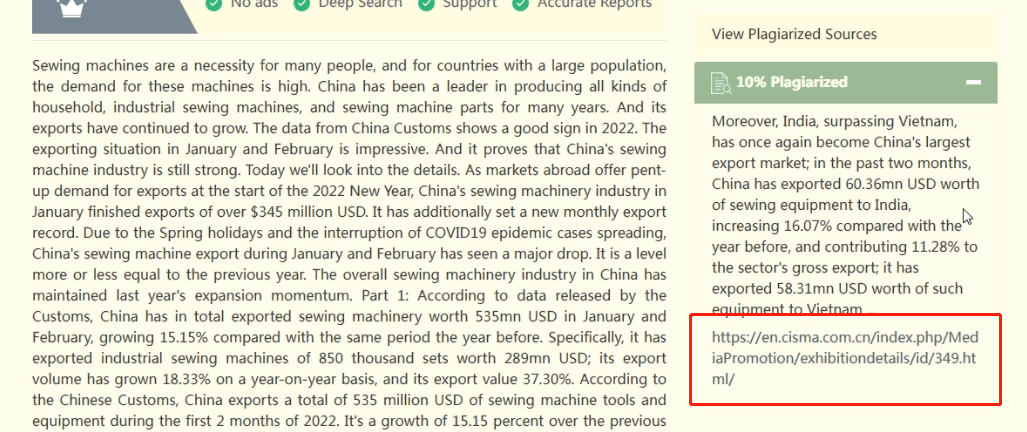 Today I am using two free online plagiarism checking tools for double contrast. I will leave their links below in the video description. One is Grammaly's plagiarism checker, and the other one is plagiarismdetector.net.Remember I did not delete a piece of content I copied from CSMA's website. Therefore, there should be plagiarism found in the first round.
Then Grammarly is showing "significant plagiarism found". But the free version is showing nothing about the details. And I have to say, Grammarly's checking is particularly strict. Even though other tools say 100% unique, there would be "plagiarism found" in Grammarly.
And the plagiarism detector will be taking a long time. Should be 200 words per minute for the free version. Regardless of the 1,000 words per input limitation, it will mark which part of our content is plagiarism.
And yes, it finds out what I did not delete. And the test shows now only the content I did not delete is a plagiarism piece.
For 100% sure, let's delete that content and test again. And the Grammaly says "plagiarism found". It is ok because it is inevitable for writing the same content on the same topic. Even in manual writing, somebody else just uses the same sentences as mine.
Finally, plagiarismdetector.net tells me 100% unique content.


What can we expect from Content Rewriter V2?
There will be some points we need to "borrow" some great ideas or expressions from others. In order to improve the content quality, we need Content Rewriter V2 to transform the copied content into plagiarism-free versions. In this view, we are expecting:
Not the overall content is using AI rewriting, at least we will try to do a little part.

Rewriting is one of the AI writing assistant tools, it should be working with other tools. We are using AI to help us, we are not doing mindless work.

It is suggested to mention others' names or resources when we are using their original ideas. Don't forget Isaac Newton's wisdom: "If I have seen further it is by standing on the shoulders of Giants."
The Last Thoughts
The Content Rewriter V2 is a great tool, but we should use it in a courteous and cautious way. The AI helps us to write, not actually write for us. Creation is still the key for content generation and copywriting even though we are using the new technology.
PS: If you do not have a WordHero membership, you are able to have a free trial.