How to Write an Affiliate Blog With WordHero AI Writing Tool
Learn how to write an affiliate marketing blog with an AI writing tool. This flowchart and guide will teach you how to get started.
AFFILIATE MARKETING
If you want to learn how to write an affiliate marketing blog to earn your passive income, there is no better way than using the WordHero AI writing tool. These tools can help you structure your thoughts, create a consistent tone, and even improve your grammar and vocabulary. Plus, they can save you a lot of time by automatically creating content for you.
So why not try one today? This article will show you how to start writing your blog with the help of software. And the best part is, you'll have a flowchart to guide you! Here is the video demonstrating my work:
Here I share with you my affiliate blog writing flowchart. It is to help you write with two different AI tools I've been using all the time: Similar Content Pro, and Wordhero AI. I will explain their application step-by-step: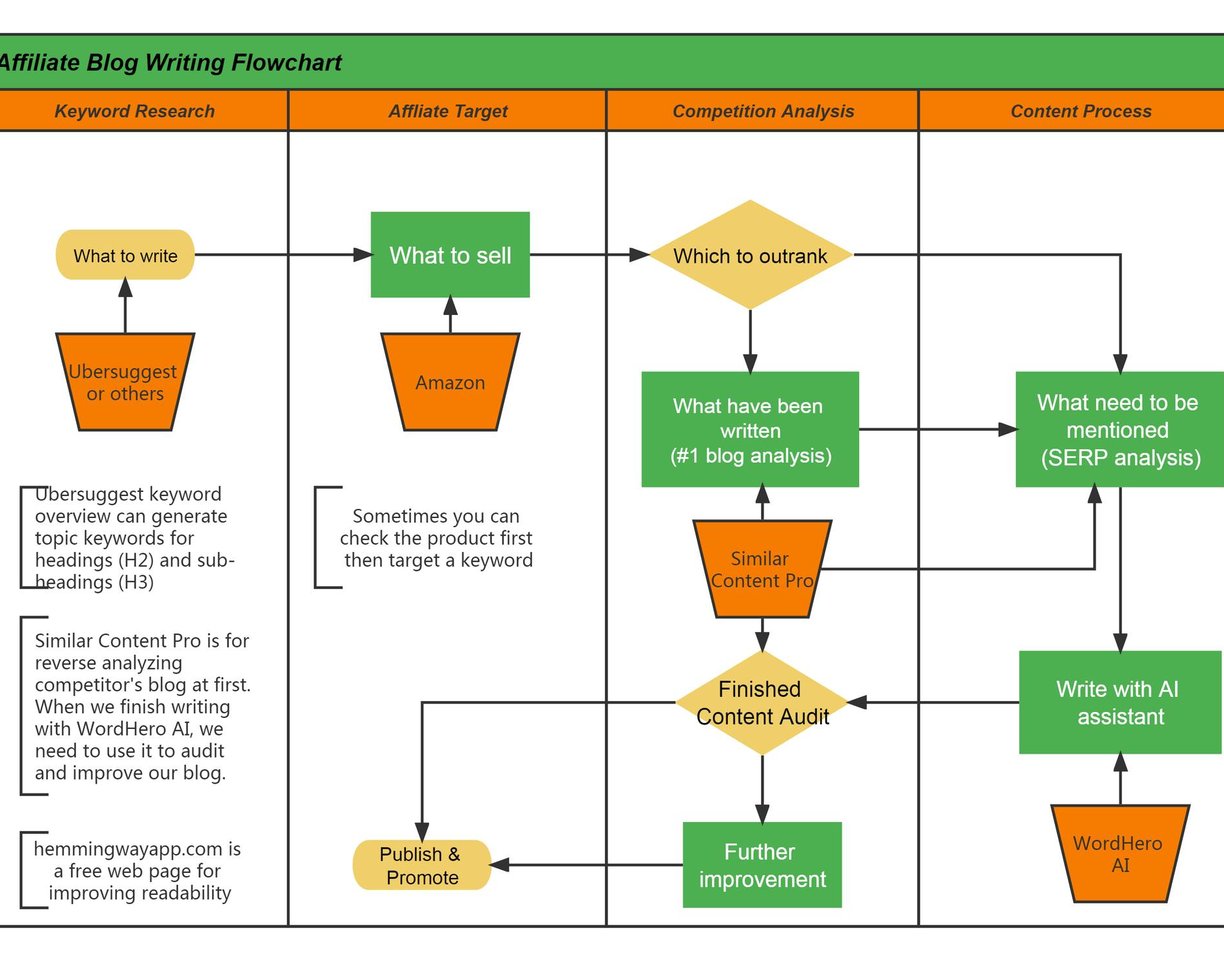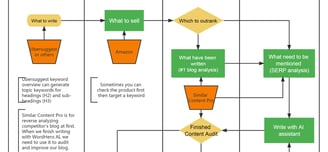 Step 1: Research your affiliate topic and keywords
When it comes to blogging, you'll need to research your topic in order to make your affiliate program successful. There are many different keyword research tools available online, such as Ubersuggest, SEMRush, Ahrefs, etc. These tools can help us find the right keywords and phrases for our online business content writing.
Once you have a list of potential keywords, it's important to study how people are using those keywords in search engine results pages (SERPS). These words are people linking anchor text and ranking keywords to our competitors' blogs. We can grab it. And we are actually hijacking our readers. We write our content based on what potential customers are searching for and interested in.
And for the affiliate product, I just randomly pick one from Amazon in the video. When you are building a niche for Amazon affiliate programs, I assume that you already know how to get referral links from Amazon offers. If you have any problems, you can always contact your affiliate program managers to get support. Don't worry, we should work as partners with them as marketers.
If you are into eCommerce for an online store affiliate, you should be careful of their brand awareness, quality-controal, and aftersales service. You don't want to hurt your reputation just for popup items without an investigational report for what you affliated.
In my video, you can see, that I was simply using Ubersuggest to do keyword research. Then I use the keyword overview function to help me. There are 3 things you need to pay attention to here:
It's showing the search volume, and SEO difficulty. we'd better think about it. When we are doing a new website, it's not easy to rank on Google.

We can also check the keyword search trends of last year.

Also, we can see the SEO click rate and the searchers' age volume.
Then you can click the "Optimize For Keywords" to organize our topic based on the specific keyword.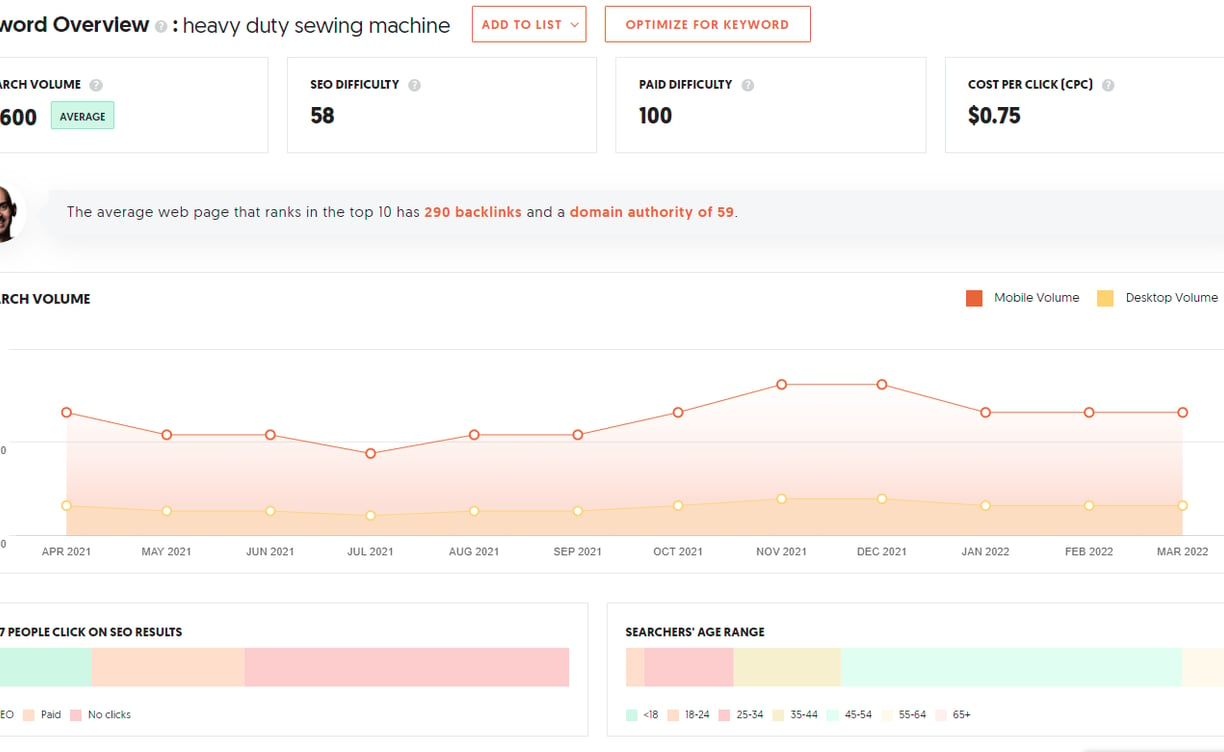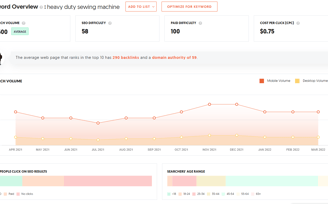 According to Ubersuggest, we should pick at least pick 5 to 10 topics that match our search intent to "tag" in our headings (H2) and sub-headings (H3). We just drag and drop to get it included in our content outlines.
The key is to drag the selected item into the assembly, marking it as the material that has been incorporated in our content outlines. The topics that have been "embedded" will generate a higher click-through rate for visitors, and they will gain a better understanding of exactly what they are looking for.


I copy and paste the suggested target market and the best ways to reach them with your blog content. It's time to start to know how to outrank our competitors!
Simply looking into the SERP, pick the affiliated article you want to outrank. Usually, we should cover several factors:
Is our Domain Authority (DA) value closed to our competitor? If it's much higher than yours, we could not outrank, we should go back and even target other related keywords.

What have the affiliating products described? What should be mentioned or rewritten in our blog?

What has been mentioned in our competitor's blog? Are there any topics we should also cover?

How to organize our unique content structure? Do we need to manually input some outlines to create interesting or informative topics?
How can we do this in an easy way? Like, we simply look at some goals with specific KPIs? Then we just write the content and check whether we are meeting the demand?
Here is what Similar Content Pro is for.:
build your new project by putting the targeted keyword, and selecting the targeted market. In the video, I was just simply picking the default US as my targeted market. You can change according to your niche's targeted market.

Copy the competitor's URL then paste it. We can fetch it to the content optimizer part.

Then hit different parts of the interface we look into different parameters.

Set goals for the blog we are going to write.
I've spent $79 for APPSUMO LTD for Similar Content Pro. it's a lifetime access membership. And it is quite a nice choice for start-ups and freelancer bloggers. If you'd also want to have it, click here. This is also an affiliate link. I will keep on using it and sharing skills. If you want to grow with us, don't hesitate to invest in a small tool. It's saving our time and money.
Step 2: Do keyword reverse engineering:
For many people, this tool looks very complicated. So firstly, let's focus on the most important 4 parts and ignore the rest.
Keyword coverage score: calculating the LSI keywords covering rate from 0 to 100. All the targeted keywords are based on automatic SERP analysis.

IF/IDF: it refers to how relevant is your text to the keyword. That means, you should repeat some keywords, and you should not end up with keyword stuffing.

Word account: how many words are in the total article. Usually, we outrank our competitors with more keywords and content value.

Topic modeling: recommended keywords to appear how many times. Usually, It's okay when a keyword is overused up to 1.5 times. Such as the word "sewing" is suggested to appear 73 times. And I actually use it 84 times. It is totally fine. But it would be not good if I use it over two times which is above 145 times or so.
And the best part is the ranking predictor, we can see what our competitors are potentially ranking for which keywords. It's marked with scores up to 100. You can see my post's top 3 keyword records are:
heavy duty sewing machine: 85;

plenty of feature features of Singer: 62

classic design of a sewing machine: 60
The competitor's analysis result:
Sewing machine: 80heavy duty: 70

heavy duty: 70

old machine: 64
How can we improve a specific keyword?
According to Similar Content Pro's idea, we need to add more LSI keywords to the targeted content. Such as I want to increase "Singer 4432", then I will do keyword research to get its LSI keywords. As we are using AI techniques and tools to write, so we have to pay attention to readability. So we will look at the 3 parts:
Readability rating: A stands for nice, B is acceptable, and C is poor. At least we need to get a B rating.

Flesch reading ease: Analyze the readability of technical material. a reading ease score of 60-70 is considered acceptable/normal for web copy.

Gunning fog score: The ideal score for readability with the Fog index is 7 or 8. Anything above 12 is too hard for most people to read.
We are learning too many new concepts in this part! Any way we can simply just edit our article and then get the KPIs? At the end of the video, I introduce a free web page: www.hemingwayapp.com. you can improve readability in an easy way. It's marking all the difficult parts with color. We just edit the content for shorter forms. In my practice, the average of 13-14 words per sentence can make an A rating readability.
I have a video for using this tool for AI-generated content SEO:
And for readability improvement:
Step 3: Write With WordHero AI
In recent years, artificial intelligence (AI) has been growing in popularity as a writing assistant. AI can write articles, reviews, and other types of content with varying degrees of accuracy and fluency. If you're looking to up your blogging game, but don't know where to start, look no further than WordHero. With their AI content writer, you can easily create fresh and engaging posts without any prior writing experience.
While some people may find this technology unsettling, there are plenty of benefits to using AI to write content. First, it can save time and effort. Second, AI is accurate and consistent, so it can produce high-quality content without human error. We can become industry experts when we have it on hand.
WordHero AI writing tool 89$ LTD deal in APPSUMO, please click here. Noted: WordHero charges an extra 59$ cost for the long-form Editor add-on. In total 89$+59$=148$ for April, 2022. The LTD did not last forever. In the future people will require monthly or yearly payments for the tool.
Finally, AI is flexible and adaptive; it can be taught to generate content that meets specific requirements. As such, it could be a valuable tool for businesses who need to produce large quantities of article content quickly or for individuals who want an automatic writing partner that fits their style perfectly.
Bloggers know that writing a post is one of the most important things they can do for their online presence. But even for veterans of the blogging world, writing a great post can be tough. That's why we've put together this guide on how to do writing in 5 simple steps.
1. Pick a topic that fits your niche site
Bloggers know that an eye-catching topic is vital for keeping readers coming back. So, what makes a great content topic? Here are a few tips to help you come up with an idea that will be popular with your readers:
Consider something that interests you. If you're passionate about a subject, chances are your readers will be too.

Look for something that's topical. Your readers will appreciate newsworthy topics and trends, especially if they relate to their own lives or interests.

Think outside the box. Don't worry about being conventional—explore new and innovative ideas that will surprise and engage your audience.

Be creative! Ideas can come from anywhere—your backyard, your observations of people around you, or even pop culture references (if you know how to use them effectively!).
I am starting to daily work in the B2B new website building industry. So I do a lot of "what is..." and "how to..." types of articles. Even though I will pick a high search volume with low competition keywords within my title. But when I do it with so many details, data, and facts, it's generating more and more organic traffic. Then no doubt, you can drive more clicks and sales.
I am new to SEO for a few months. If it works for me, it works for everyone.
2. Organize the outlines with suggested topic keywords
The traditional way to organize your topic will be like this:
Before you even begin to write, make sure you have a clear idea of what you want to say. If you don't have anything specific in mind, start by brainstorming some ideas. It is based on what's been going on in your life recently. Or what topics are currently popular among bloggers. Once you have an idea of what you're trying to communicate, it'll be much easier to start writing!
But the process with Wordhero AI writer will be much easier:
Search the seed topic keywords in Ubersuggest and grab suggested topic keywords from the keyword overview. These topic keywords are supposed to be part of outlines (H2 or H3). I would take them into application in a natural way. Not every topic keyword I will apply, but most of them will be covered when I write related outlines.
Both ways has pros and cons, but who would refuse to work in a smarter and easier way?
3. Write an intro automatically
This can be easily done with Wordhero AI. The easiest way is, when you get the headline and outlines done, hit the rocket icon, formerly it was called[blog intro], now [blog paragraph], and you will get an intro.
You can simply search the "blog intro" toolbar on the top left. Just copy and paste your title into it, then hit "write for me". You will get several copies to choose from. Or maybe add extra information such as keywords to each outline for better text generation.
But remind that not every time, you are guaranteed to have a satisfactory output. The AI will generate a high-quality intro depending on what you have already written. It's really a black box technology. The "GIGO" (garbage-in-garbage-out) rule is what we need to follow here.
Some people would try, again and again, hoping the AI make a change. I would not do that. The most effective way is to change our input. Such as replacing a specific keyword with a more general keyword, or a higher search volume keyword.
4. Write the content of each outline automatically
There are two ways to write quickly with Wordhero AI:
Use the [keyword assistant] and the rocket icon, which is called [blog paragraphs]:
As above mentioned, I will first copy the suggested topic keywords from Ubersuggest and paste them into Wordhero AI's [keyword assistant]. When I write different outlines, I will click on 1 to 3 of these topic keywords. Then I highlight the outlines hit the rocket icon and use the [blog Paragraphs] toolbar to write.
Search the toolbar [blog paragraphs] on the left, and solely use it:
We can copy and paste the outlines into the short description part. And maybe add more info to make the AI "understand" you, when you are using a short outline without subjects or objects. For now, keywords to be included in the content are required. But it does not always include the original keywords, sometimes it'll write with related keywords. The AI seems to avoid mechanically maintaining the keywords. In some cases, we need to manually write the keywords into the AI-generated content.
5. Write a conclusion of the blog automatically
For this part, I usually search and use the [blog conclusion] tool.I will copy and paste the title, and add some summarized information about the content. Then hit the [Write for me]. We will have 3 copies to choose from.
Usually, this is a very easy part. The AI will generate a call-to-action ending for the blog.
Step 4: Audit and improve our blog
As you can see in my video, I copy and paste what I wrote with Wordhero AI into Similar Content Pro. Replacing the competitor's content to check it out. I was getting a 60+ keyword coverage, which is very close to the competitor's score. And I wrote about 3400 keywords, longer than the competitor's 2600+ keywords.
What we are going to improve here are:
More unused keywords to be added if available. We'll add the content up to 75, but not over 75. We should not over-optimize our content.

IF-IDF score is over 5.2, and the competitor's score is between 2 to 3. So I should edit some parts of the content like replacing some overused keywords with similar or related words. Make it around a 3 to 5 IF-IDF score.

Readability was using the free page of www.hemingwayapp.com to shorten the sentences. And I did not show it on the video. But eventually, I was getting an A rating instead of a B rating.

And Flesch reading ease score was improved to 65.1 instead of 57.5.

And the Gunning Fog score was improved to 8.9 from 11.2.
In other words, my content is easier to read than competitors.
Lately, many people are discussing whether AI-generated content is against Google's guidelines. I am not sure how can Google detect the AI content pattern. But with readability improvement, people love my content.
In fact, I did a test with Wordhero AI content then I translate it into Chinese. It is about English-speaking learning skills and principles. I got 1197 views, 10 upvotes, 15 likes, 63 save-as-favorite, and 11 sharing. It is far better than what I wrote manually.
And don't forget to embed your affiliate link for tracking. Without the links, you are not making a profit on your sites.


Step 5: Use links, images, and videos
Use internal links, images, and videos to break up your text. The goal is to attract customers' attention and interest.
Internal links and external links are important factors that can help your content rank higher on Google. Here external links include outbound links, as known as backlinks, and inbound links. if you intend to generate content that will avoid detection by Google's algorithm, keep these two factors in mind.
When creating a post, it's important to use all the tools at your disposal to help readers stay engaged. One way to keep them reading is by including images and videos. This helps break up your text and keeps readers interested in what you have to say.
When using these elements wisely, you can create posts that are both informative and visually appealing. This can boost your sales.
Step 6: Publish and promote your post
Are you looking for a way to get your article published and shared on social media? If so, then consider using a catchy title and linking to your social media accounts when publishing your article. Titles that are catchy will help your post's promotion to a wider audience, increasing the likelihood that people will read and share it.
Also, if you have an email list to share with your subscribers, it's a great way to get their feedback. I am promoting digital products such as AI tools for content generation, I benefit from this strategy a lot.
Additionally, by including links to your social media accounts in your article, you can further promote your content and build connections with potential followers. For example, if you're writing an article about food trends you can include a link to a photo of the food item you're discussing on Instagram or Facebook. By doing this you'll not only increase exposure for your content but also develop relationships with potential customers.
Step 7: Create an editorial blogging calendar
Starting a blog can be a lot of work, but with a schedule, in place, it becomes much easier. Having an editorial calendar will help you plan out your posts and make sure that you are linking to the right resources. Not only will this help you stay on track, but it will also make sure that your post is cohesive and well-organized.
Till now, we are finishing the writing process!
The last words:
Wordhero is an AI-driven content writing tool that can help you write blogs, articles, and other content for your website and even guest posts. It works by analyzing your text and providing suggested edits and revisions to improve the quality of your writing. Using Wordhero AI for running an Amazon affiliate business is one of its many applications. It is not that difficult when we follow an organized workflow for affiliate success.
Have you started to write your own Amazon affiliate posts today? You can reach me by clicking the social icon!