Text-to-Speech (TTS) Tutorial: AI Voice Technology Application
A step-by-step tutorial on editing a video that uses Text-to-Speech (TTS) technology. The tutorial is designed to help you understand how to use TTS technology in an easy way.
AI WRITER TOOLBOX
Hi everyone I hope you are safe and well! Today we are going to share how to add AI voice to video. I will show how to use Text-to-Speech technology for video making step by step tutorial.
If you'd love to have more useful tips and tricks about AI content writing, please subscribe to my channel.
How do I get the AI voice technology lifetime access?
For the AI voice tools, I will leave my affiliate link: Updigital Speech Synthesis Software to Create Human-Like Voice Over Content
This TTS (Text-to-Speech) app can be bought in APPSUMO LTD deals.
How to generate AI voice step-by-step?
First, we go straight to the introduction part.
Tell people what about your content and call-to-action for subscribing to your channel.
And add time-breaking code for each part of your content. Also, you can change the breaking time to longer than 1 second.
Then you keep on writing based on your video content and description.
Usually, I keep writing on www.hemingwayapp.com. It's a free web page for checking readability and counting words.
But remember, I copy and paste to a text document. In case I am away from the keyboard, the page will refresh if long time is no input.
Finally, copy and paste the finished article to generate an AI voice.
The TTS app has many options for different languages and accents. Sometimes I even do Chinese voice for my video. Because people love to watch a video than read an article. And I don't need to read by myself after writing.
The TTS app has a limitation for generating speech. It is 6000 characters for each operation max. A big amount of content over 6000 characters, should be handled multiple times. And add-up different outputs together later.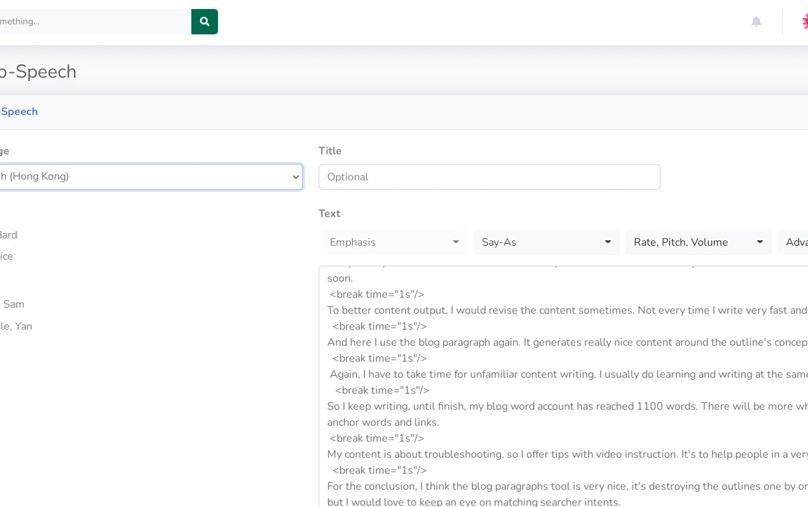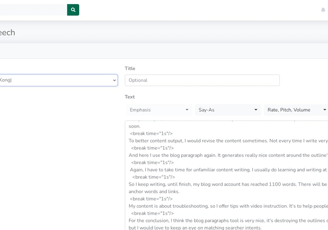 How to add AI voice to video step-by-step?
When finished, just download the mp3 document. Then add it to the sound layer of the video editor.
It's a little time-consuming to edit the video and speech AI voice.
We have to cut the voice to fit the content, and also adjust the timeline accordingly. Then repeat the process again, slow in the beginning, I can do it faster soon.
To upload the text as a Youtube transcript, I need to remove the breaking code of each part. Eventually, we choose the text for uploading. We don't need to worry about the time issue, YouTube will match the time for the voice.
Thank you for watching, if you feel helpful, please give me a thumbs-up. And for more tips and tricks, please subscribe. Next time I will show you a real-time record of 15 minutes for 1000 words blog with Wordhero AI: