Similar Content Pro Review: a Tool Beyond Latent Semantic Analysis
If you want to rank your website in Google, you need to use a good SEO tool. One of the best options is Similar Content Pro.
AI WRITING TOOL REVIEW
What is the Similar Content Pro?
The Similar Content Pro (SCP) is a search engine optimization (SEO) tool that allows users to see how their website content compares to that of their competitors.
The tool also provides a detailed report on the top-ranking pages for any given keyword, as well as SERP results and Google ranking.
If you're looking for help creating content that will rank on Google's first page, it is the tool for you.
This SEO tool provides users with a variety of features to help us write content that is both readable and optimized for our target keyword.
In addition, it can predict a series of related keyword groups that will rank on SERP (search engine results page). This allows us to make changes to our content as needed in order to improve our ranking.
Go beyond the latent semantic analysis
In the early 2000s, a new approach to text analysis called latent semantic analysis (LSA) was developed. This technique quickly became popular among researchers due to its ability to accurately analyze large amounts of text data. However, the LSA function of Similar Content Pro is going further than usual applications.
There are several shortcomings of LSA that have become increasingly apparent in recent years. And these issues are exactly where the tool goes beyond than usual LSA:
One major issue with LSA is that it does not account for the context in which words are used. For example, the word "bank" could refer to a financial institution or the edge of a river. Without knowing the context, it would be unable to correctly interpret the meaning of the word.
Another issue with LSA is that it relies heavily on co-occurrence statistics, which can be easily manipulated. For example, if two words are always found together in a text corpus (e.g. the words sky and blue), then it will interpret these two words as having a strong association. Therefore, LSA often produces spurious results that can lead to wrong conclusions about the data.
The last issue is the lack of data to train the algorithm. As content creators should pay attention highly to this issue. The LSA algorithm is only as good as the data that is used to train it. If there is not enough data, or if the data is not of high quality, then the algorithm will not be able to learn from it and will not be able to produce good results. This is why it is important to have a large and high-quality dataset when training an algorithm.
In Similar Content Pro, problems are solved accordingly:
Apply LSA for the top 10 in the SERP of Google based on the targeting keywords. It will provide LSA keyword lists in 1-word, 2 words, and 3 words formats. We are able to export those keywords to include in our content naturally and fluently.

The co-occurrence statistics for the top 10 competitors are highly relevant. Accordingly, we can filter out some unrelated keywords to our writing topic. We are covering more keywords than each and every our competitors. This ensures we are serving better than them.

The tool is training and improving its algorithm for LSA with specific AI day by day. It'll assure enough data and high-quality output. We can trust its analysis results.
You can see how Similar Content Pro takes its move further than usual LSA tools. Let's compare it to Labrika, it has advantages:
Detailed frequency of every suggested keyword. It's so specific that marks with red(overused), green (properly used), and no color (unused). We can filter each type to handle.

Predict the ranking keyword groups. We can check and then adjust the outlines and contents to change the top-ranking keywords to match our target keywords.

The readability score is in detail. Even though I still have to go to the free Hemingway app online page for readability improvement, it is great to look into the Flesch reading ease score, gunning fog score, unique word count, etc.
The shortages against Labrika are:
Meta title, meta description, and H1 suggestions for keyword and word count.

Total word count for article length, usually a range number of top 10 competitors.

Up to 3 keywords instead of only 1 keyword to be targeted and analyzed.

Feature snippets data collection and presentation.

Content brief automatically generated function including exported to Docx. document button.
Therefore I combine Labrika and Similar Content Pro both as my SEO tools.
How to grab Similar Content Pro?
AI content hacker claims to focus on lifetime payment tools for content creation. Therefore we promote this tool. Now it's still available in APPSUMO.
If you do not use APPSUMO yet, you can click here to register. You can enjoy the 10$ welcoming fund that you can use in your APPSUMO purchase.
If you are an APPSUMO member, click here to grab the LTD of Similar Content Pro.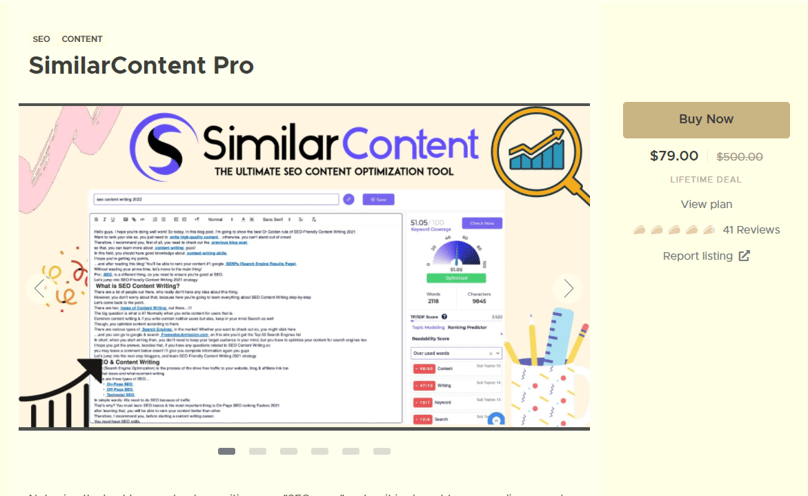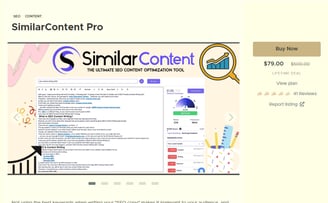 The usual way we use this tool
If you have been using WordHero AI to generate articles, chances are you have noticed that the AI can produce content that is easier than what you write yourself. But the problem is that you don't know what keywords to be used. And what should you do to outrank the competitors that are on top of you on Google SERP?
And Similar Content Pro is here to save you from the confusing situation.
With its data-driven interface, you can do to make your articles more interesting and engaging for people who are looking for quality content. You will know exactly what to do for outranking in your content: keyword coverage, ranking prediction, readability, etc.
In this video, we will outline some tips, and show you how to improve the quality of your WordHero-generated articles.
The new way we use this tool
Both new and existing content can be analyzed. We simply copy and paste the content to the dashboard for topic modeling, and we'll see what keywords to be included, frequency, etc.
But let's say, it's better to do the LSA analysis from the beginning. We'll get the keyword lists from Similar Content Pro, then we apply them to Wordhero AI's keyword assistant tool. From there we'll be able to generate new content with effortless keyword coverage. Here's the example video:
Does it work?
When we simply follow its instructions, we'll see the final results: it works.
Simply saying, Similar Content Pro is doing SERP analysis for us. Even though it's called LSA or TF-IDF whatsoever.
SERP analysis is the process of analyzing how your website ranks in comparison to your competitors for specific keywords. You can use a variety of tools for SERP analysis, but Similar Content Pro is a great option. Because it allows you to see which websites are ranking for the same keywords as you and competitor analysis.
This tool also provides information on the backlinks that are helping these websites rank higher than yours. It's important to remember that it's only one part of the puzzle. You also need to consider other factors such as on-page optimization and link building when trying to improve your website's ranking.
What can we expect
If you're looking for an edge in the competitive online world, Similar Content Pro is the tool for you. It is a search engine optimization (SEO) tool that helps you find and analyze content that is related to your targeted topic. This allows you to create new content with higher keyword coverage, which can help you climb the Google SERP.
The last thoughts
In conclusion, Similar Content Pro is a great tool for SEO purposes. It is easy to use and can help you climb the Google SERP. I highly recommend using this tool to improve your website's SEO.